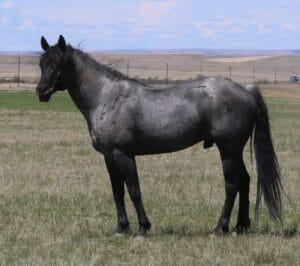 2007 Blue Roan AQHA Stallion
AQHA 5029289
$950 Breeding Fee (includes $100 booking fee) breeding contract
We breed via live cover hand breeding to outside mares till May 20th and then again after the stallions are brought in from pasture in late summer. Call for availability and further information.
Bred to excel and totally beautiful, Colonel is the horse we spent many years looking for. Colonel is sired by Colonel Doc Bar Chex the 2000 World's Greatest Horseman Competition Reserve Champion with $40,000 in winnings in cutting, reining, and reined cow horse competition. His maternal Grand Sire, Blue Spark Olena, was the 2005 URCHA Year End Reserve Open Hackamore Champion, the 2004 URCHA Year-end Show Open Snaffle Bit Champion, and the 2004 MRCHA Open Snaffle Bit Futurity Finalist (high fence score).
We're so blessed to have Colonel in our program. He has a great disposition, a kind eye, and a graceful neck. He stands on 4 solid black, straight feet and throws foals with excellent bone, big feet, lots of heart and try, and size. Colonel was started under saddle as a two year old and was more than we could have asked for. He was a sponge – soaking up everything as fast as we could teach him. He never bucked. He was willing to do anything we asked with no argument. He competed in the Utah Reined Cow Horse Association in 2010 and showed exceptional cow and cutting ability. Best yet, anyone can ride him! We are not 'show' people. We use our horses on the ranch and our stallions need to breed mares to pay for themselves. Colonel is an outstanding horse that has just been amazing to work with. He is always healthy, he can work all day, and he has lots of gears! We hadn't ridden Colonel for several years and Tana saddled him in the pasture August, 2020, to run his mare band in. She kept using him for all fall work. He's so fun to ride! Colonel has a big motor and a work-with-you attitude. His foals are proving to be exceptional in every way with tons of cow sense and we just do not get complaints about them ever. People love them. You just can't go wrong with them!
5 Panel: N/N
IMM/MYH1: N/My
EVA tested and vaccinated.
15-1 Hands
JEWEL'S LEO BARS
COLONEL FRECKELS
CHRISTY JAY
COLONEL DOC BAR CHEX
DOC BAR
SHIRLEY'S DOC BAR
SHIRLEY CHEX
SHINING SPARK
BLUE SPARK OLENA
SMART SUGALENA
BLUE SAN ROSE
BLUE DRIFTING SMOKE
SAN ROSE RED
SAN ROOTS